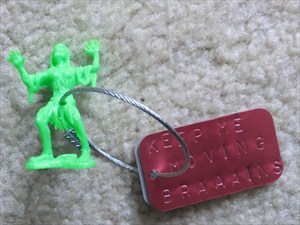 From the sulci, lobes and fissures of the brains of LAWERENCEM and ZEKESTER, we bring you, dear reader a twisted tale of the macabre. Perhaps we were affected by growing up in Baltimore, Maryland where Edgar Allan Poe is buried.  Perhaps we had brain fevers as children.  More likely, we're just warped from eating too much Spam. Anyway, you've likely come here having found an infected travel bug (A.K.A Zombie Travel Bug, or ZTB) while geocaching, and you are curious to know more.  Hopefully we will sate your craving for knowledge.  Sort of like hungering for BRAAAINS, in a way.
So here's what's going on – We've built this website to track how the zombie plague might spread through geocaching.  The Transmission Graph page (accessed by the tab labelled "Transmission Graph" above) shows you a graphic representation of who infected whom, and has links to the Groundspeak page of each infected ZTB we've released. Each ZTB has a human history (it is important to remember that zombies were people once, just like you and me), which is documented in their description on their page on Groundspeak. It is there you will find how that ZTB contracted the disease in the first place.
The "News" tab is our blog, where we will announce new ZTB releases, and the events that affect the ZTBs in play, as well as new developments. Note that this is not updated continuously, but will be updated routinely as we can get to it. Keep in mind that we are still trying to survive here, fortifying the bunker, scouting for supplies, and fighting off the zombie hordes. Lately scurvy has been a problem, so any of you with extra vitamin C would be welcome if you can fight your way through.
Essentially the way it works is an infected bug enters the game when we launch it somewhere.  When that bug is grabbed, dropped off, visits a cache, those events correspond to a geospatial point in time.  This site tracks those events graphically, by dropping dots and colors for intensity on a map. The tab above labelled "ZTB – Dispersion map" displays the overall map showing how the spread of the disease is progressing. Individual maps for each bug released can be toggled on and off, so you can see each ZTB's contribution to the dispersion of the plague. You will note that, over time, as a ZTB moves around, more places get infected.  There are always, of course, more bugs (zombies) coming too. Again, we should note that map updating is a manual process (thus far) and does not occur instantaneously. Provided we are not overrun, or trapped outside the bunker, we hope to do that on a weekly basis…